Holi Run: colours and sport through the city
The Holi Run, or Colour Run, is a race of 5 kilometres in which the less important goal is to arrive first to the finish line. It is not a competition, and the objective here is not the speed. It is an event 
where people of all ages and experience come together to have a good time and covered with/in colours. Cities like XX, XX, XX or XX have already celebrated the Holi Run and after the participation seen in the previous edition looks likely to be repeated in the 2017.

The Colour Run was inspired in colourful festivals throughout the world such the Holi Festival in India. In the Holi celebrates the victory of good over evil, the light over darkness and the end of winter. During the Holi social and ethnic differences disappear.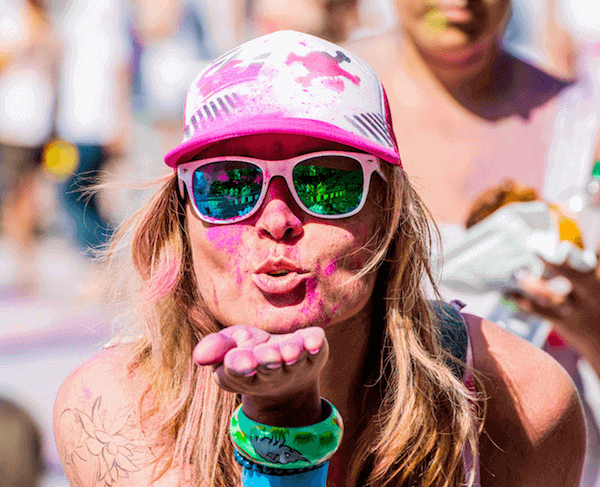 8 Tipps for planning a 5k Holi Run
1. Make sure you choose the correct Colour Powder – Our products are remarkable for their ultimate quality. We want to maintain high standards, that is why our coloured powders strictly comply with the quality requirements and follow the European quality and safety regulations.
2. Shipments: where they need to be when they need to be – We deliver fast shipments of all sizes. In addition we offer the possibility to acquire an express delivery service which shortens the delivery time to 48 hours. In any case prevention is better than cure, so we recommend to plan everything in advance to avoid last minute problems.
3. Choose the right amount of Holi powder – We recommend to calculate between 400 and 600 grams for assistant to the race of colours. It is also a nice idea to give to each participant a certain amount of holi powder to be thrown at the finish line. Every holi bag contains 75 grams of Gulal powder, we offer also 10 kg  packets for major events.
We offer powder in yellow, green, blue, pink, purple and orange colours in bright tones.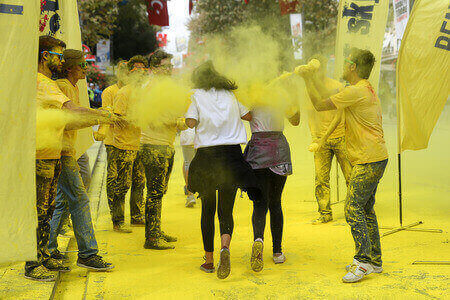 4. What is a colour zone? – Volunteers in every kilometre of the Colour Run will be throwing colours in the air and to the runners. This points are called Colour Zones and there usually 6 of them in each race, the last one by the finish line where a big party will take place. The effect of the Gulal powder is more powerful when everyone is dressed in light colours, that is why we recommend to ask the attendees to come to the event dressed completely in white.
5. Safety comes first – If you buy our coloured powder you will not have to worry about safety issues. Our product complies with established standards and does not include explosive substances. 
Anyway, as with many other substance, we recommend to keep out of your eyes and to protect young children with sunglasses and bandana or dust mask for covering their mouths. Holi powders are non-toxic but can irritate the little ones.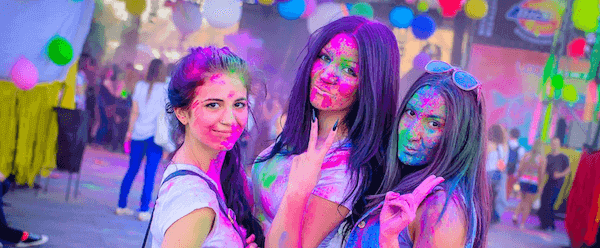 6. When will the party take place? – The Color Run is an outdoor event so it is recommended to celebrate it  in spring or summer although it vary from region to region. If summers are very hot in your city it may not be appropriate to organize an event in which participants have to walk or run. In addition, we advise that it isn´t appropriate to held the Holi Run in closed spaces due to the dust that gets stirred up. And, what happen if it rains? Don´t worry about a little bit of rain, the water will blend and melt the colours creating a funnier effect.
7. Set the price for the runners – The price varies depending on the type of race and if it includes a runner kit (with t-shirt, colour powder, headband…) or not. If your idea is to sell the holi powder bags separately the usual price is 2 or 3 euros per bag, but that amount is just a guide price.
8. How to remove the colour powder from clothes – Our holi powder is very easy to clean and you will have no troubles to wash it out of cloth, hair or skin. It is biodegradable so it can be used in any type of terrain or area.