Tips for an extraordinary photo shoot with holi powders
In a photo studio, outdoor, with a professional camera or even with the camera of your mobile phone, holi coloured powders will help you to get artistic photos with very little effort. Wide variety of topics for this type of photographic sessions: sport, juggler, acrobatic… Romantic photos of couples, San Valentines Day, prior-wedding photos, with the family, with pets. Anything. The atmosphere created in color-dusted photographs is usually quite relaxed and informal. But also perfect for more professional sessions, for digital and analog photography. 
In a photo shoot with a professional photographer let yourself be advised by her/him. His/her experience will help you make the most of it. Also appropriate to carry some ideas in mind and know what result you want.
We have created this list of tricks to help you gather ideas for a successful photo shooting: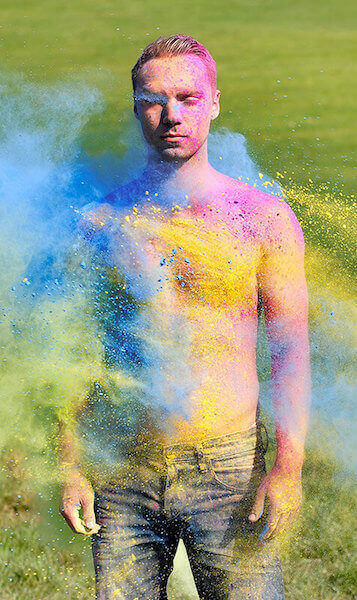 A photo camera and Holi powder – what do you need more!
1. Outdoor photos
 – Outdoor sessions are perfect for large groups but also for wedding photos. Any charming landscape will be suitable. A beach or a park: intensity of the colors in both places completes the power of the holi colours & is the ideal place to perform group colour battles. it is a 100% natural product so it will not damage the environment. Photos in industrial buildings or train tracks are really spectacular. Do not forget to pay special attention to safety if you decide this options as there may be a risk of accidents.
2. Photos inside a photo studio – Whenever you use coloured holi powder we recommend wearing white to highlight the colours. Specially in photography studios. Nice idea to use white for the clothing and black colour for props & atrezzo, although the photographer will be in charge of orienting you properly. Lamps and studio equipment shall be properly covered to avoid the powder to enter through small openings, etc.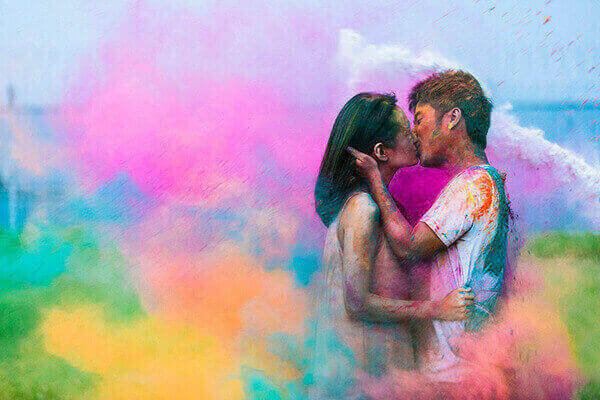 3. Original Wedding Ideas: colourful photo book – Original details in weddings are highly demanded. Couples are looking for an original way to celebrate, and remember, one of the most special days of their lives. The pre-wedding photographs are a classic easy to modernize, our advise: get some colored powder bags. Organize a cool and fun photo shoot to remember the moments before marriage. Jeans and white t-shirt is preferred but nothing stablished. Research in internet and you will find many images to get inspiration. If you have one, do not forget to take pictures of the engagement ring surrounded by colours. Bring the colour party to the ceremony: give colour powder bags to the guests, and throw them all at once.
4. Use accessories to create colour clouds – More than ones you have seen photographs where the model is inside a cloud of coloured sand. These types of effects are very easy to create with powder colours. For a more spectacular effect: squeeze bottles, fire extinguishers or cannons. With the pressure the colours will be fired one or several meters, creating that coloured fog.
5. Decorative designs – If the colour bath does not convince you, here a different proposal for artistic photos: Do you know Rangoli or Kolam decorative designs? This drawings are made in India, Nepal and other Asian countries next to the entrance door or backyards. Are very colorful drawings that reduce the negative energy of the place they are made. Varied patterns: circles, Hindu deities, flowers, etc. If you don't know what we're talking about, write Rangoli in your browser to find out what it is. Use our holi powder to draw these mandalas on the floor and take pictures crouched or standing next to the drawing. Create endless compositions.